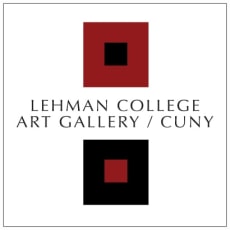 Crystal Liu, Nancy Lorenz, and Paul Villinski and Lehman College Art Gallery
Bedzzled: Art That is Bewitching, Bejeweled
September 20, 2016 - January 14, 2017
From the exhibition press release: "'Bedazzled' implies amazement, to be overwhelmed to the point of confusion; going beyond our senses and reason. This lush exhibition of 43 artists includes work that seduces with glitz and glamour, and allures with a sense of magic and mystery. The exhibition presents a broad range of media—painting, installation, sculpture, printmaking, and digital media—that entice the viewer, while blurring the boundaries between the aesthetic experience and enchantment... The exhibition highlights optics, ornament, surfaces, light, mirroring, pattern, repetition, abstraction, and geometry."
The artists represented in the exhibition are themselves a bedazzling array of famous names, mid-career artists and freshly emerging local talents, whose colorful and provocative works play with and illuminate each other. The artists in the exhibition are: El Anatsui, Radcliffe Bailey, Nancy Blum, Paul Corio, Katherine Daniels, Evie Falci, Vibha Galhotra, Ori Gersht, Damien Hirst, Jessica Johnson, Joyce Kozloff, Robert Kushner, James Lecce, Chris Leidy, Crystal Liu, Nancy Lorenz, Liza Lou, Susie MacMurray, Armando Marino, Sasha Meret, Betriz Milhazes, Marilyn Minter, Melissa "MRS" Castignoli, Paula Nadelstern, Eva Obodo, Caitlin Peluffo, Rubem Robierb, Carlos Rolón/Dzine, James Rosenquist, Michelle Sakhai, Nancy Saleme, Holly Sears, David Shaw, Devan Shimoyama, Rachel Stern, Megan Suttles, Barbara Takenaga, Mickalene Thomas, Federico Uribe, Paul Villinski, Stephen Westfall, Saya Woolfalk, and Robert Zakanitch.
Curated by Bartholomew F. Bland. Opening reception Wednesday, October 5, 2016, from 6:00 - 8:00pm.